Posted Monday/November 12, 2001; 12:49 p.m. PST
In the words of Gordon Gekko, "Christmas is over and business is business." And the business for NFL Fans everywhere (ESPECIALLY in Seattle) is bringing down the "Berlin Wall of Sports," the National Football League Blackout Policy. The league's blackout of the last AFC West match-up between long-time arch rivals, the Oakland Raiders and Seattle Seahawks vividly showed why the policy is no longer a mere "slap in the face" to Fans.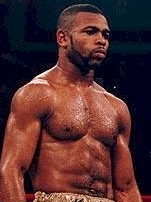 Hardest body shot in boxing!
First, what does "72-hours" have to do with anything? For all intents and purposes, the game was a sellout. The policy proved itself "mathematically outdated" on November 11, 2001 in Seattle. The official paid attendance of 67,231 is: 1) ONLY 1,424 less than the 68,655 sellout requirement; 2) 1,731 MORE than the 65,500 tickets sold 72 hours before game time; 3) 12,707 more than the 54,524 in attendance for the HISTORIC, ONE-TIME BLACKOUT LIFTED game in Week Two. Roy Jones, Jr. body shot to the gut!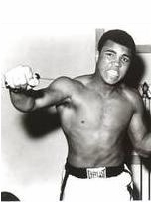 Sting like a bee!
Second, all day Saturday and during NFL Primetime on Sunday, ESPN continually played promos in Seattle for a blacked out game! Fox put the "Tick is Coming" on the World Series backstop, that only TV viewers could see. Certainly ESPN can keep promos off, SO WE DON'T HAVE TO SEE THEM! Fans were already excited about the game and pissed off the NATIONAL telecast of the NATIONAL Football League game left Seattle out of the NATION. We didn't need promos dangled in our faces for a game we weren't going to see! Ali stinging jab to the eye!!
HA...HAA..HAAA..HAAAA!
Third (and by FAR most "Dick Dastardly"), the NFL/ESPN alliance "created an illusion" there had been a "Miraculous, 11th hour, Stay of Blackout." After NFL Primetime, the network played a quick Raiders vs. Seahawks/John Gruden vs. Mike Holmgren promo, with a "Raiders, Seahawks next, on ESPN" shot right afterward. Then they rolled to the game with:
[Panning Husky Stadium. Voice over.]
"Thank you Chris. We're at Husky Stadium at the University of Washington, for an AFC West battle between the Oakland Raiders and the Seattle Seahawks."
[Cut to Mike Holmgren and posse walking through tunnel. Voice over.]
"Seattle coach Mike Holmgren, has been the mentor for a remarkable number NFL head coaches, the pick of the litter has been Raider coach, Jon Gruden."
[Cut to close-up of Jon Gruden. Then fade to "game film montage" of Gruden and Holmgren. Quick cut to ESPN Sunday Night Football NFL shot. Fade to Husky Stadium. Voice over.]
"It's a cool, damp night in the Great Northwest with a crowd of (Cut to Seahawks running out of tunnel.) more than 65,000 to see the Raiders and the Seahawks."
[Cut to Mike Patrick]
"Good evening everybody, I'm Mike Patrick it's GREAT TO HAVE YOU WITH US. At three and four, the Seahawks' safety margin is gone. And if they're going to get a desperately needed win tonight, that defense has to rebound from a wretched performance a week ago and their young quarterback is going have to stop making those killer mi…"
[CUT TO BLACK!]
OH NO! Not the upper cut!
The two minute illusion culminated with Paul Tagliabue's "slight of hand," pulling the plug and thousands of TV screens within a 75-mile radius of Seattle went black. BLACK! No NFL Films. No ESPN News. Not even a quick cut to Tagliabue laughing his ass off in his office. NOTHING! Ok, not exactly nothing. The feed was ONLY black for about twenty minutes before it reminded everyone, "Due to NFL regulations the Seahawks game is blacked-out." Mike Tyson upper cut to the throat!!!
Fans, the blackout policy is no longer a mere slap in the face, it's a PUNISHING blow! Business is business, but this is personal, ain't it? 67,231 tickets sold = 1,424 tickets unsold = OVER 200,000 Seahawk Fans "Blacked AND Blue." With the 67,231 tickets sold before kick-off, Sunday Night's game COULD HAVE had a "last minute reprieve." Given the historical aspect, it SHOULD HAVE! However, the NFL chose to impose its will, by enforcing its rule.
Keep your mouthpiece in!
The final AFC West grudge match was a BIG win for the Seahawks, but a BIGGER loss for Seattle. The Seahawks got the last laugh on "da Raaaaiiiiderrs" with a 34-27 victory and the FOURTH HIGHEST RUSHING TOTAL IN NFL HISTORY by Shawn Alexander. Alexander rushed for 266 yards and scored three touchdowns and ONLY 67,231 Fans in the "NFL city of Seattle" saw it. Fans DESPERATELY needs to see that kind of football on TV in Seattle! Buster Douglas (in Tokyo) knockout punch!!!!
The fight is on now, Seattle Seahawk Fans! Let's UNITE and IMPOSE OUR WILL! Once 200,000 Seattle Fans are onboard the NFL Blackout Petition, the NFL's rule will become (in the words of Jerry Glanville) the "Not For Long" Blackout Policy.