Home Plate

Mad As Hell: The Statement
Updated Friday/October 1, 1999; 2:02 p.m. PDT
First the NFL had strikes in 1982 and again in 1987. Who can forget the outrage against Major League Baseball in 1994? The NHL in 1995? Then the NBA, at the height of its popularity, went the way of its peers and "locked out" the Fans for 191 days. The Fans don't care what it's called. Whether a player is holding out, the players are on strike, the players have a labor dispute, or the owners/league cancel games, it's all the same to the Fans; we are locked out. WeTheFans must unite and make our own key to the door of the sports world.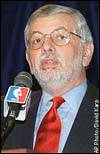 "It's good to be the King."

After a six month lockout, it became crystal clear that "we, the fans" have been paying outrageously inflated prices for the product of sports in general; the NBA especially! It was blatantly obvious since there was such a power struggle for the money to be equitably and fairly divided between the parties. That only happens when there's not enough money or TOO MUCH; $2,000,000,000 is TOO MUCH MONEY! They proved it during the 191 days! The only reason there are disputes in the first place is because the Fans are locked out. Locked out from being "HEARD." Once the Fans get organized, the "Voices of Sports" will go from two to three!

The NBA HAD to have a salary cap. Now Major League Baseball is headed towards one and the players are going to fight it tooth and nail! Aren't the $100 million contracts having an adverse affect on the Fans? Don't collective bargaining negotiations have the greatest impact on the Fans? Won't the NEXT Major League Baseball work stoppage have a HUGE IMPACT on the Fans?

"Pete Rose NEVER gets in!"

Don't the Fans need a union if the millionaire players have one? Don't the Fans need a union if the umpires have one? Don't the Fans need a union if the WNBA has one? Well, now the Fans have a union! A union to fight the MADNESS of the outrageous concession prices, the outlandish cost of tickets, the "obscenely overpaid," "team mentality-challenged," "psuedo-entertainers," playing A GAME in an arena or stadium that increased OUR taxes! The MADNESS must stop! The ONLY WAY it will be stopped is by YOU!


From
Lockout$
to
Holdout$
to
Strike$
to
Ego$
to
Greed
to
$tadium
MADNE$$
to
$illy
Owner$