Home Plate
NFL: Back To The Dark Ages VIII
Posted Tuesday/January 29, 2002; 9:22 p.m. PST
Facts are facts. Fact - The NFL Blackout Policy killed the Seattle Seahawks this season. The Hawks were 9-7; all six of their home wins were blacked out. Fortunately, the other three wins were on TV since they were road games. Unfortunately Hawk Fans also witnessed five of the seven losses on TV since they came on the road too. NFL games are essentially "three hour infomercials." The NFL prevented six that could have promoted the team and aired five that demoted it.
Fact - The finishing touches are being made on the Seahawks' new stadium. The stadium is $300 million publically funded, but there's a good chance the GENERAL PUBLIC won't be able to watch games in it by pushing buttons on their remotes. Ironically, with all the lobbying and politicking for the stadium, the issue of the blackouts NEVER CAME UP. No one mentioned to the taxpayers and voters of Washington State, that despite kicking in money for the stadium, they may not be able to watch any games from the comfort of their homes.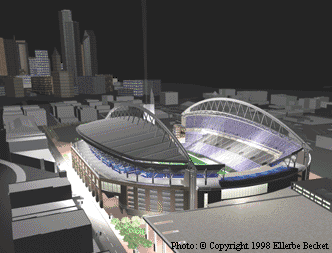 Looks good now, but will we see it on TV?
Fact - Seahawks owner Paul Allen could have paid for the stadium out of his piggy bank. The NFL could have paid for the stadium out of its mattress. The stadium benefits Allen and the league as much as it does the Fans. However Fans, Voters, and Taxpayers are holding the $300 million bag. The new stadium holds 67,000, yet affects over 2,000,000.
Fact - The NFL Blackout Policy is lurking to hinder the Seahawks' 2002-2003 season, but the Official Sports Fan Union has a Plan to head it off. WeTheFans.com is looking for "A Few Good Fans" to sign the "Turn ON The Lights, The Party's Over" NFL Blackout Petition and send a message to the NFL, "We Want Our Hawk-TV!"
Part 7 : St. Valentine's Day


UPDATE 1.30.2: The Washington State Legislature has taken the NFL Blackout Petition to the next level in the form of House Bill #2838!

The

season

is

over,

but

the

fight

against

sports'

most

ridiculous

rule

is

just

beginning!