Now a word from "Our Sponsor's Daddy"
Posted Friday/February 11, 2005; 11:53 p.m. PST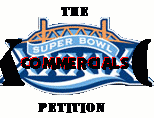 10 to the 8th Power
OK, let me see if I've got this straight. For the season finale of "Black CRUSH," WeTheFans.com's ongoing crusade against the NFL blackout policy, we encouraged fans to TAKE BACK CONTROL OF YOUR TV with The Great Super Bowl Blackout. "The G.S.B.B." not only protests the blackout policy, but too many TV timeouts, commercials, and show promos, by advising fans to blackout the commercials. And then before halftime, the NFL itself, blacked out a commercial? OK, I've got it.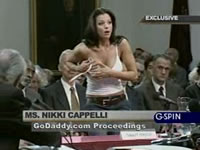 Perfect Spoof/Ingenious Ad

Actually I've always gotten it. The dictatorial attitude behind the league's decision is precisely the one it enforces the blackout policy with. Janet Jackson's "control trip" last year, merely intensified the NFL's mindset of control. And as the perfect spoof to a year's worth of overreacting from the NFL, the networks, the FCC et al, GoDaddy.com busted out with the first Super Bowl XXXIX "impact commercial." The NFL decided the commercial was so powerful that "once was enough" and scratched the domain registrar's second spot during the two minute warning. Fox then replaced the ad with a show promo from its bottomless well/pit. Thirty-seven days into 2005 and $2.4 million doesn't buy what it used to or is supposed to.
TV is King
The Golden Rule today is, "They who control the TVs make the rules." And season after season, we as fans allow ourselves to be controlled by the NFL through our TVs. It's only an "idiot box" if you let it make you one. That's how the NFL "plays" fans and now an advertiser, through control. By forcing FOX to pull GoDaddy.com's second spot, the NFL exerted further control over our TVs. In fact, the move made it clear, the NFL acts like it's everyone's Daddy.

Let's Go Daddy!

The Black CRUSH Bus usually gets parked after the Super Bowl. But the wild audacity of the NFL to pull an ad proving, hypocrisy knows no bounds, has convinced us to keep The Bus running during the off-season. So get on onboard, the "Power of 10" and a year head start will create the type of momentum to get 100 million "CYBER riders" for XXXX: The Fans Strike Back!