Home

It's In The Fans' Hands, Not Selig's!
Posted Monday/November 1, 1999; 4:20 p.m. PDT
After ten years of exile, the Fans got Pete Rose back on a MLB field. Being voted to the MLB All-Century Team and the ovation he received before Game 2 of the World Series was confirmation (if properly orchestrated), the Fans COULD put Pete Rose in the Hall of Fame.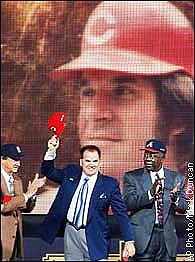 "I GOTTA get in!"
As bad as he wanted to, MLB commissioner Bud Selig couldn't keep Pete Rose off the All-Century Team or Atlanta's Turner Field. With all of the power he's used against Rose, Selig realized there is ultimately a power greater than his...MONEY. MasterCard spoke and the commissioner listened. The All-Century Team was under the banner of MasterCard, not Major League Baseball. Therefore, MONEY TALKED and B.S. (Bud Selig, of course) WALKED!! MasterCard was adamant about doing the All-Century Team promotion WITH Pete Rose, so Selig walked to the bank with a large check. While doing so, Selig momentarily forgot about the conditions of the agreement his good friend, the late Bart Giamatti drew up in 1989. That agreement which Pete Rose signed, stated that he was not allowed in a MLB stadium or to associate with major-league players, managers or coaches.

"He'll NEVER get in!"
Now that the Fans and money have spoken separately, they should join forces next season and get Pete Rose in the Hall of Fame. Baseball Fans have the power to get Pete Rose in the Hall of Fame, PERIOD. Baseball Fans holding baseball tickets have the power to force Bud Selig's hand the way MasterCard did. Baseball Fans (actually, Pete Rose baseball Fans) could send a message LOUD and CLEAR by boycotting selected games throughout the season, starting with Opening Day. Bud Selig exposed an opening. If baseball Fans bum rush it, there won't be anything Selig could do, but welcome Pete Rose to Cooperstown (with closed arms, of course).



The
Fans
spoke
when
Pete Rose
walked
onto
the
field.


They
could
get
Rose
walking
into
the
Hall.
VOTE
FOR
PETE!