The Most Powerful People In Sports Are Sitting On Their Butts!
Updated Thursday/December 14, 2000; 1:52 p.m. PST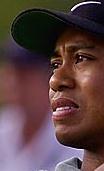 Looking for Paul?
The SportingNews.com has compiled a list of the 100 Most Powerful People in Sports and named Tiger Woods as Number One. But everyone knows being the third richest person in the World with $28 Billion accounted for, makes Paul Allen (owner of the Seahawks and Trailblazers) the Most Powerful Person in Sports; despite the conflict of interest. So for discussion purposes, we'll just call Tiger "Number One A." The list, composed of league commissioners, media moguls, shoe company chairmen, beer salesmen, agents, athletes, etc., etc., etc, is missing the ABSOLUTE MOST POWERFUL People In Sports, the Fans!
The Fans are by far the MOST POWERFUL. The Fans who can't wait until the next time they can get in position, either at the game or in front of the TV, with their favorite food and drink, and sit on their butts and get into it! Isn't that how it is? The power is in the butts.
Think about it. The owners are billionaires. The players are multi-millionaires and famous. However, The Fans fail to realize that it is only "perceived" power. Power sometimes only "appears" to be in the hands of the rich and famous. This time, the REAL power is actually in the hands of people just like us who are sitting on our butts, watching.

Have a seat.
Mega-TV packages, state-of-the-art stadiums, and superstructure arenas are meaningless without the Fans sitting on their butts. Spike Lee dropped $2,000 per game to be courtside at Madison Squre Garden last year, "butt" what was he doing? Once WeTheFans get organized, the balance of power will shift more than it did in the NFL has this past season. All we want is a "shift!" The FANS REVOLUTION isn't about trying to usurp the power to take over. That's the goal of "most revolutions." But WeTheFans' purpose is merely to be recognized as the "third part of the equation" in the billion dollar arguments and mega-million dollar contract negotiations. WeTheFans want to be given an equal opportunity to be heard in the business of sports, not just when the scoreboard graphics say "MAKE SOME NOISE!" We have the power to make that happen, so let's harness it!!