Posted: Friday/July 26, 2002; 12:40 p.m. PDT
Updated: Tuesday/February 4, 2003; 3:44 p.m. PST
Updated: Tuesday/February 24, 2004; 6:26 a.m. PST


Last baseball season, WeTheFans.com designated Seattle as "Major League Baseball's HOT CITY" and declared it "the place to draw the line" for baseball Fans. Unfortunately, NO ONE was talking Collective Bargaining last season, but The Official Sports Fan Union. Fast forward a year. EVERYONE is talking Collective Bargaining and Seattle is still Major League Baseball's HOT CITY, thanks to Vin Baker.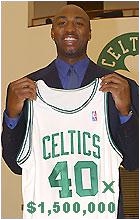 P0$TER BOY: Collective
Bargaining WITHOUT Fan
Representation!
Vin Baker? Doesn't he play basketball? Didn't he just get traded from Seattle to Boston? What the hell does Vin Baker have to do with baseball in Seattle or anywhere else? All good questions.
Yes, Vin Baker. Yes, Vin Baker "allegedly" plays basketball. Yes, thanks to the "Luck of the Irish," Vin was just traded to the Celtics. Vin Baker has EVERYTHING to do with MLB's Collective Bargaining mess because he's the most visible example of the NBA's Collective Bargaining Agreement sans Fan Representation at the table! Vin Baker's four seasons in Seattle shows how OUTLANDISH GUARANTEED CASH can allow one player to choke a team and its Fans. Here's how it happened in Seattle:
1. Vin Baker was traded to the Sonics in 1997.
2. Vin's salary was around $3 million per season before the '98 Lockout.
3. The new Collective Bargaining Agreement automatically took Vin's salary to around $13 million.
4. Vin's play didn't match the money.
5. Vin got paid anyway.
6. Vin's play took the Sonics down.
7. Vin STILL got paid.
8. Vin's contract made him un-tradable.
9. "Vin-sanity" set in and made Fans delirious.
10. The Sonics got LUCKY enough to trade Vin Baker.
11. Vin Baker had a shakey start.
12. Vin Baker got on track.
13. Vin Baker got off track.
14. Vin Baker got waived.
15. Vin Baker still gets $36 million.
Vin Baker went from "suitable Shawn Kemp replacement" to the "most disappointing player in Sonic history." At $87,000,000, Vin Baker wasn't a "bargain," "collectively" or otherwise. Without Fan Representation, owners and players adopt policies that INFLATE EVERYTHING for the Fans. Despite diminishing returns from Vin Baker, he STILL went from $3 million per season to an $87 million contract. That's the way the bounces the ball in the NBA.
If Vin Baker doesn't make it CRYSTAL CLEAR why Fans need to be at the Collective Bargaining table of Sports, nothing will. So get HOT on the We Love Baseball Ballot II, BLACK CRUSH, Hockey Petition, and M.A.H.F.I.A.; especially all you LUCKY Seattle Fans!

Insanity! : Racism?