---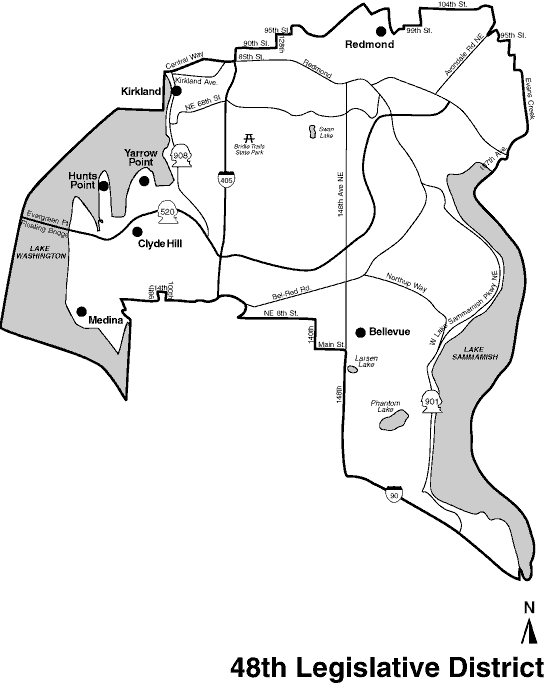 ---
Welcome to the State of Washington
48th Legislative District
Represents portions of King County: parts of Bellevue, Kirkland, Redmond, and all of Medina, Clyde Hill, Yarrow Point and Hunts Point.
Major Industries: Computer software & hardware, Aerospace, Wireless telecommunication, Outdoor equipment & apparel, Chemical distribution, Insurance, Food distribution, Energy, Truck manufacturing, Healthcare, Wholesale warehousing.
Retail Areas: Downtown Redmond & Kirkland, Carillon Point, Overlake, Crossroads, Eastgate.
Sen. Luke Esser (R)
Legislative Office:
211 Newhouse Building
P.O. Box 40448
Olympia, WA 98504-0448
Telephone: (360) 786-7694
Fax: (360) 786-7524
e-mail: esser_lu@leg.wa.gov

District Address:
611 Market Street, Suite #5
Kirkland, WA 98033
(425)739-1818
Fax: (425)739-1819
Rep. Ross Hunter (D)
Legislative Office:
P. O. Box 40600
319 John L. O'Brien Bldg.
Olympia, WA 98504-0600
Telephone: (360) 786-7936
e-mail: hunter_ro@leg.wa.gov
Rep. Rodney Tom (R)
Legislative Office:
P. O. Box 40600
441 John L. O'Brien Bldg.
Olympia, WA 98504-0600
Telephone: (360) 786-7848
e-mail: tom_ro@leg.wa.gov

Toll-Free Legislative Hotline: 1-800-562-6000
---
[ Legislative Homepage | Senate Homepage | House Homepage ]
[ Statewide District Map | Puget Sound Area Map | Spokane Area Map ]
---
02/18/03